It's spring, which means nice weather, barbecues and beach bodies! Everyone always comes into the office this time of year asking us the same thing – "Doctor, what should I eat to lose weight?"
First, it is important to remember that diet goes hand in hand with exercise, and next week's blog entry will discuss proper exercises. Today, let's talk about eating right!
As always, you should discuss diet with your doctor (hopefully us!) before making any drastic dietary changes, as everybody is different with different caloric requirements and restrictions. But simple healthy food swaps, which are easier to make in the spring and summer months when fruits and vegetables are in season, are a good way to start.
If you love rice, eat Brown rice. Brown rice still has the husk present, which is packed with nutrients that have been otherwise stripped away on white and yellow rice. Brown rice and vegetables are a good vegetarian meal that is easy to make and a delicious dinner that promotes healthy weight loss. Whole wheat pasta and breads are better than white breads and pastas, but it is best to limit your intake of these as well.
Meat is not your enemy, but remember that portion sizes are important! Limit red meat intake to once a week at most, and the portion size should be no larger than your fist. Skinned, baked or broiled chicken is optimal, especially with brown rice or a salad.
Plain, low fat yogurt with fruit makes for an excellent and healthy breakfast. Grapes, apples, cantaloupe, peaches, nectarines are great accompaniments to yogurt or a great go-to alone for snacking.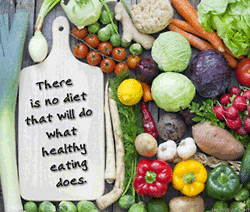 Making an appointment with your doctor will allow us to tailor a diet plan to your needs. Don't be discouraged if the weight does not come off as quickly as you would like – it is better to go low and slow with weight loss to make sure that the changes you make become part of your daily routine, and weight lost does not return!